Discovering how to say happy birthday and best wishes in Spanish
Happy birthday in Spanish:
¡Muchas Felicidades! = Best wishes!
¡Feliz cumpleaños! = Happy birthday!
Disfruta de tu día. = Enjoy your birthday.
Espero que todos tus deseos se cumplan. = May all your wishes come true.
More congratulations in Spanish:
¡Feliz Aniversario! = Happy anniversary!
¡Felicidades / Enhorabuena por vuestro bebé! = Congratulations on your new baby!
¡Enhorabuena por el resultado de tus exámenes! = Congratulations for your exam results!
Qué tengas mucha suerte en el mundo laboral. = Good luck in the world of work.
Te deseo lo mejor. = I wish you the best.
Deseos de Feliz Cumpleaños
Más que una amiga, has sido para mí una hermana, y por eso quiero agradecerte y decirte lo afortunada que me siento al contar con tu presencia en mi vida. ¡Feliz cumpleaños!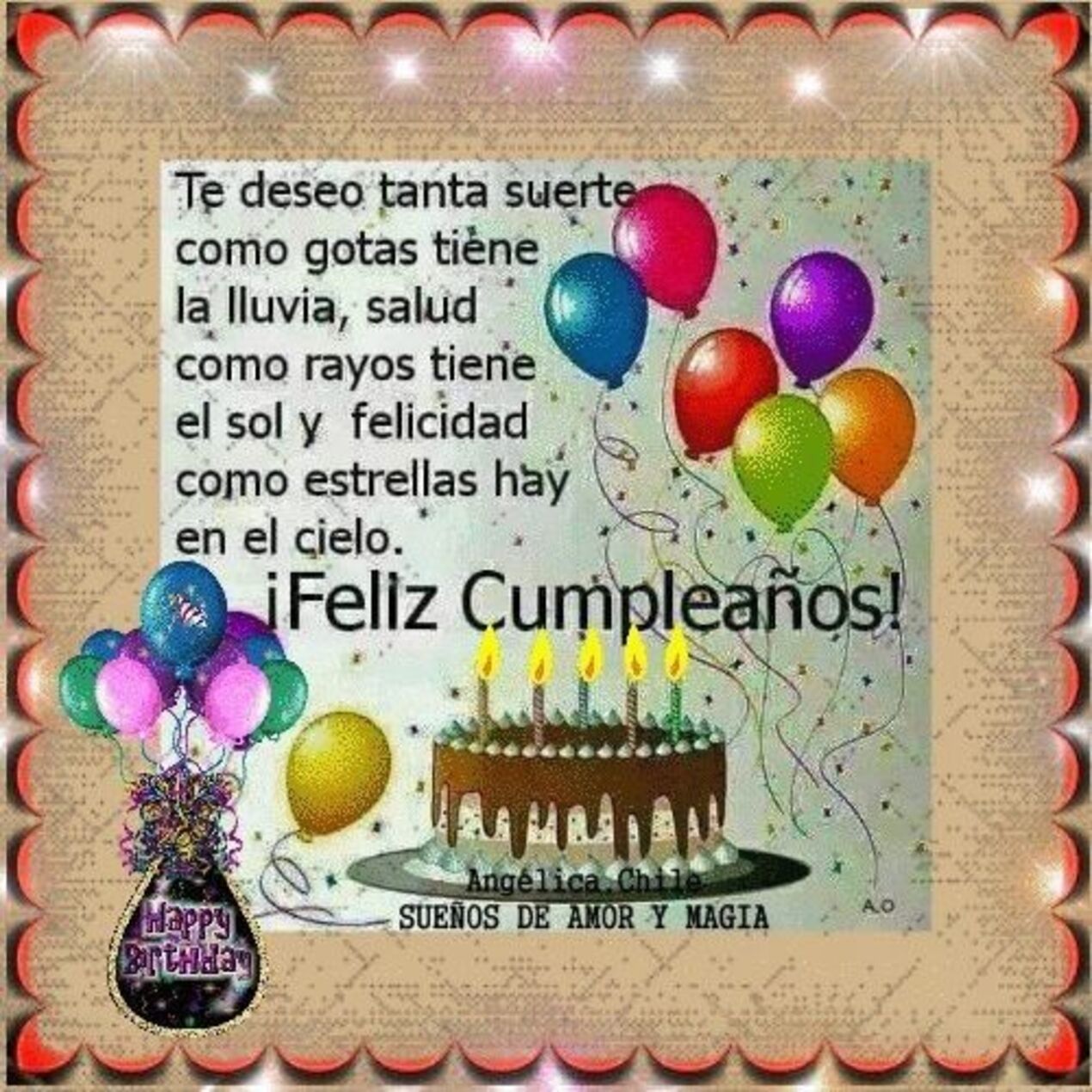 Get Insurance Quotes > SM Insurance 
Feliz CumpleañOS Amiga
Feliz CumpleañOS Hermana
CumpleañOS Feliz
Feliz Cumpleanos
Tarjetas de Cumpleaños
CumpleañOS Feliz
Feliz Cumpleanos
Deseándote un día lleno de felicidad y un año lleno de alegría. ¡Feliz cumpleaños!"
"Enviándote sonrisas para cada momento de tu día especial … ¡Que tengas un tiempo maravilloso y un muy feliz cumpleaños!"
"¡Espero que su día especial le traiga todo lo que su corazón desea! ¡Le deseamos un día lleno de agradables sorpresas! ¡Feliz cumpleaños!"
"En tu cumpleaños te deseamos que lo que más deseas en la vida te llegue tal como lo imaginaste o mejor. ¡Feliz cumpleaños!"
"Enviando a tu camino un ramo de felicidad … ¡Para desearte un muy feliz cumpleaños!"
"Te deseo un hermoso día con buena salud y felicidad para siempre. ¡Feliz cumpleaños!"
"Es una sonrisa mía … Desearle un día que traiga el mismo tipo de felicidad y alegría que usted me trae a mí. ¡Feliz cumpleaños!"
"¡En este maravilloso día, les deseo lo mejor que la vida tiene para ofrecer! ¡Feliz cumpleaños!"
"Puede que no esté a tu lado celebrando tu día especial contigo, pero quiero que sepas que estoy pensando en ti y deseándote un maravilloso cumpleaños".
"Deseo que todos tus deseos se hagan realidad. ¡Feliz cumpleaños!"
"Hace muchos años en este día, Dios decidió enviar un ángel a la tierra. ¡El ángel estaba destinado a tocar vidas y eso sucedió! ¡Feliz cumpleaños mi dulce ángel! "
"Te envío un deseo de cumpleaños envuelto con todo mi amor. ¡Qué tengas un muy feliz cumpleaños!"
" Feliz cumpleaños a ti. De buenos amigos y verdaderos, de viejos y nuevos amigos, ¡que la buena suerte y la felicidad también te acompañen! "
"Una simple celebración, una reunión de amigos; aquí deseándote una gran felicidad y una alegría que nunca termina.
"Siempre es un placer desearle feliz cumpleaños a alguien tan dulce".
"Feliz cumpleaños a uno de mis mejores amigos. ¡Un año más para reírnos de nuestros propios chistes y mantenernos cuerdos! ¡Te quiero y feliz cumpleaños! "
"En este día especial, hago un brindis por ti y tu vida. Feliz cumpleaños."
¡Te ves más joven que nunca! ¡Feliz cumpleaños!"